Current News
September: Pat Bush & Jim Gamble Join SOS
The band would like to welcome in Pat Bush, keyboard player and vocalist from the band Remedy. Pat was originally secured as a backup for the band but when our keyboard player position was left vacant, he expressed an interest in becoming a full-time part of the band. Pat's extensive music experience along with his great talent will add just the right touch to our band. Look for Pat to make his SOS debut at the November 3rd show at The Scottish Rites Theater.
The band would like to welcome in Jim Gamble, bass guiter player and vocalist who previously played for another Chicago Tribute band. Jim wanted to continuie playing the Chicago song book, when the original bass player Dave Jackson decided to step down we started auditions for a replacement. Jim was our fisrt and only audition for when we heard him play and sing, we knew he was the right man for the job. Look for Jim to appear with the band at our next show on September 17th.
Pat Bush
Keyboards/Vocals
Jim Gamble
Bass/Vocals
Cheryl M Hicks says: "You all were awesome!"
Tinamarie DeHabey Juengert writes: "You were wonderful and the band great. Thanks for a great show"
Marion Pasqualetto-Saglembeni said: "It was a fantastic show! You should all be proud!!! Loved it!"
Kathy Denz comented: "Awesome show!!!"
Joseph Pep Pasqualetto wrote: "Great stuff..........your hard work and dedication was all to obvious"
Jamie Herschenfeld Reich says: "Last night was most memorable. Hats off to all of you for two outstanding performances!"
Denise La Kier Shulman writes: "First time my husband and I saw the band, and you were amazing!!!"
Donna Saglembeni Hornyak says: "Another awesome show! Love you :)"
Kevin Riley writes: "GREAT show last night, really impressed with the band, peace and love to all
Teresa Caldera wrote: "Had a fun time seeing Sounds of Society - if you enjoy Chicago music this is the band to see ! Great show last night at Phil at the Firehouse Cafe"
Beverly Clement said: "Sounded great"
Pam Messina comented: "What a good night it was! thank you sooo much! the music was GREAT"
Chris Phillips wrote: "The band sounded great tonight!"
Gary Jackson said: "They sounded better then the last time, amazing horns"
Robert Buzzerd writes: "Great show. The band was great and it was a fun time"
Rich Penna says: "Had great evening with friends at The Firehouse Cafe, and saw an awsome performance by SOSCTB. They drew such a crowd, the 7:00 dinner show was sold out"
Kathy Marvin Knaub wrote: "Great band Phil and I loved it! Thanks for including us!"
Arlene Litvin said: "Great show last nite. Really enjoyed it. You really looked like you were having a blast"
The video shoot from Monday night August 2, 2010 was a big success. With a crowed of 95 invited guests the bands performance was riveting to say the least. Many of those on hand said that they thought they were listening to the real band "Chicago". In fact, a teenager who was with their parent turn to the parent and asked," Dad, is this the real band that plays these songs". That compliment and many others that the band received that night was all they needed to feel that the night was a huge success. Look for the bands future plans to be performing in late September> Thank you for all the support from our families, friends and fans. Without you, this wouldn't be as fun!
November: Scottish Rite Theater a BIG Success
The night at The Scottish Rite Auditorium was one of the best performances by both bands. The crowed loved the show as the fans were dancing in the isles. We look forward to another performance at the Scottish Rite and thank all who supported the theater and the band.
February 9th: Eden Lounge at Harrahs in Atlantic City
The reviews are in and the headlines read, "SOSCTB rocks the house at The Eden Lounge in Harrahs, Atlantic City". What a great show we had as the band was hitting on all cylinders and the crowed left asking for more.
COMING SOON
New CD Release Show Coming In 2013
New Smart Phone App
February 19 The Firehouse Cafe` SOLD OUT
The band continues to work on their NEW CD title, "Beginnings Again". Sample the music here by clicking the CD cover.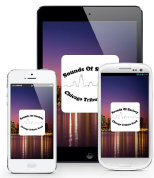 The band launches it's "NEW" Smart Phone App for iPhone, iPad and Android phones. Click to download our new app and keep up with all the news and shows for the band.

2021 SCHEDULE IS IN THE WORKS
What's Making News
August: Video Shoot August 2, 2010
CHICAGO 9
"NATIONALLY ACLAIMED "
Download
Our New
Smart Phone APP

The Chicago 9 Tribute band members would like to take a moment to wish our longtime bass player and vocalist Jim Gamble a fond farewell. Jim had to make one of the hardest choices for a musician to make and step away from the band due to health reasons. We all admire Jim for making such a tough choice, but we do understand. Jim has been an interictal part of the Chicago 9 Tribute band with his incredible talents on both Bass Guitar and his awesome vocal range, he will be hard to replace. We have learned many things from Jim, he would say that this was the most fun he has ever had with clothes on, don't fall asleep in the Green room and most of all, have a passion for what you love in life. Good luck Jim in life and we all wish you many years of health, happiness and success, you are a class act. It was our pleasure Jim, you will be missed by all!
July 2020: Bassist/Vocalist Jim Gamble steps down due to Health reasons
October 2020: Chicago 9 Welcomes in Bassist/Vocalist Rob Tyler.
The Chicago 9 Tribute band members would like to welcome in Bassist/Vocalist Rob Tyler to the Chicago 9 family. Rob is very excited at the opportunity to play with this incredible band. Rob has filled in at times on Keyboards with the band but his first and best instrument is bass. Rob not only brings with him his awesome talents on bass and vocals, but his work ethic and commitment to excellence makes him the best choice moving forward for the band. Look for Rob on all our upcoming shows in 2021.
July 2021: Chicago 9 Welcomes in Trumpet Player Mike Clark
The Chicago 9 Tribute band members would like to welcome in Trumpet player Mike Clark to the Chicago 9 family. Mike is an exceptional horn player and carries with him a mutitude of talent. Performing as the regular substitute with the band, when the opportunity opened up to fill this vacancy, there was no doubt who to call on to fill this seat. Mike is a hard working professional who is willing to do whatever is asked of him to make the band a better band. He has always been a team player and his attitude and personality mixes perfectly with this group of seasoned musicians. Look for Mike on all our upcoming shows in 2021.
June 2022: Chicago 9 Welcomes in Drummer Mark Daniels
June 2022: Chicago 9 Welcomes in Percussionist Rob O'Neal